Why Choose Marv's?
As one of the leading car repair shops in Sioux Falls, SD, we pride ourselves in providing top-of-the-line auto repair services. By trusting Marv's Body Shop, you can have peace of mind that your car is in good hands. Our skillful team works hard in making sure that your car is running in optimal condition.
So what are you waiting for? Visit Marv's Body Shop today.
CAR REPAIR SHOP IN SIOUX FALLS, SD
Having a car is one of the biggest investments you'll ever make in your lifetime, and owning one definitely has a lot of benefits for you and your family. It brings a good deal of convenience—you have a mode of transportation at your disposal.
But of course, there also comes the sometimes stressful task of maintaining and caring for your vehicle. This includes having it properly fixed when it garners physical damage due to unfortunate events like car accidents. In such situations, it's important to make sure your vehicle only gets high quality and professional handling by a trusted car repair center. This is what we at Marv's Body Shop in Sioux Falls are for.
Marv's Body Shop has been providing excellent service to the Sioux Falls community since 1971. Our team of highly skilled technicians makes use of only the highest quality equipment, parts, and materials in all our repairs.
Given how long we have been in business, you can be confident about our professional experience and dedication to what we do. We are committed to ensuring that every car brought to our center for fixing will get an excellent and effective repair job. Whatever the damage may be—a scratch, a dent, or even something possibly hidden, our team will take care of it for you. No matter what model or brand your automobile is, you can definitely entrust it to Marv's Body Shop!
Turn to Marv's Body Shop in Sioux Falls for all your auto repair service needs. For questions or concerns, feel free to get in touch with us.
Our Team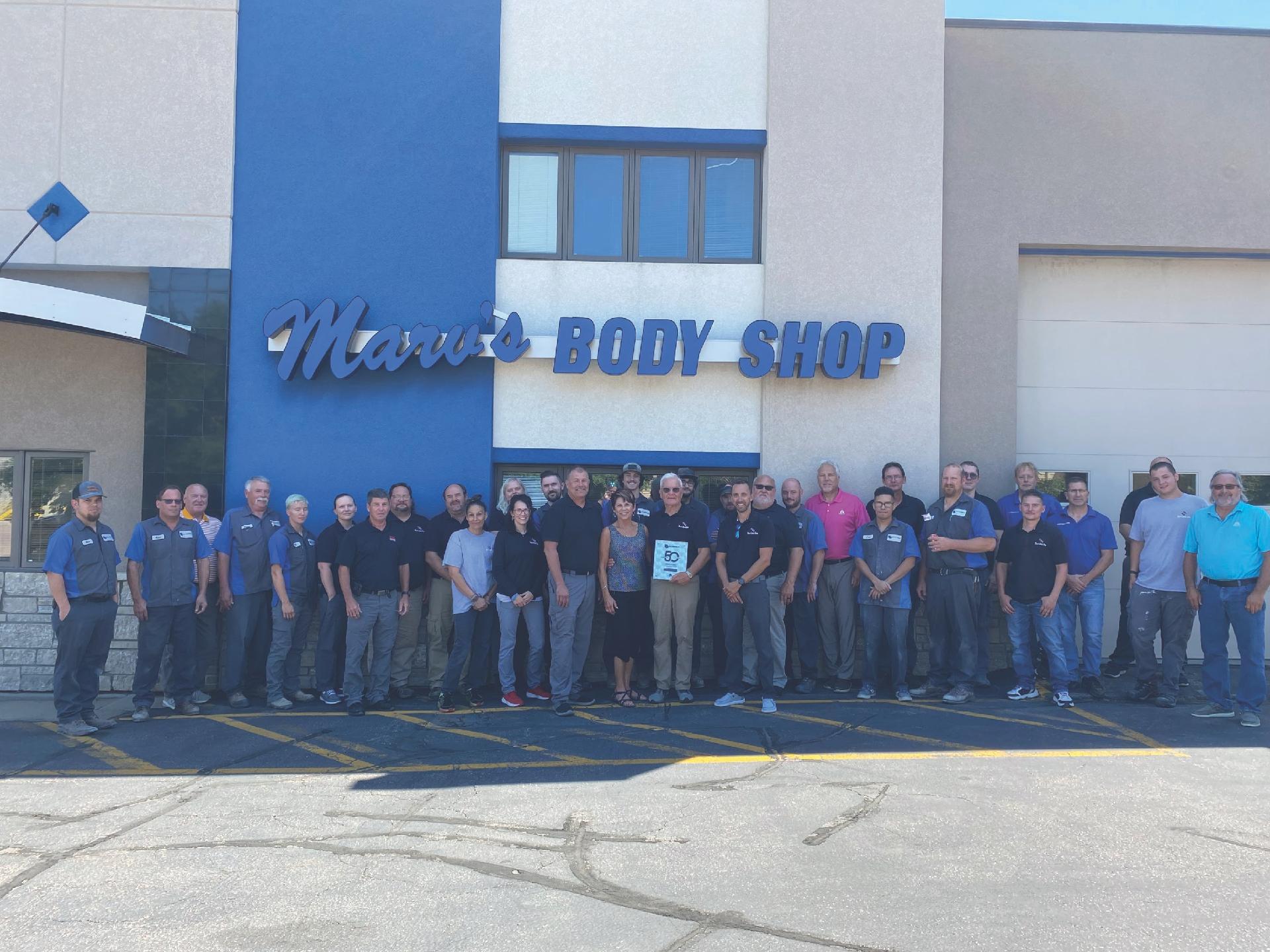 MARV'S BODY SHOP IS DEFINITELY THE GO-TO PLACE IF IN NEED OF THEIR SERVICE!! FRIENDLY STAFF, FAST/EFFICIENT SERVICE. THEY EVEN ADJUSTED MY HEADLIGHTS WITHOUT ME HAVING TO ASK! WORK DONE LOOKED LIKE BRAND NEW! I EVEN GOT IN THE MAIL A COMPLIMENTARY "FREE" CAR WASH COUPON. HELP WITH PAPERWORK…DONE & DONE! I FELT WELL TAKEN CARE OF & IF NEEDED A LOANER CAR WHILE YOUR VEHICLE IS IN THE SHOP? THEY ARE MORE THAN HAPPY TO HELP YOU WITH THAT TOO!! VERY SATISFIED CUSTOMER!!
OUR FAMILY HAS USED MARV'S SEVERAL TIMES FOR MAJOR AND MINOR BODY AND PAINT WORK OVER THE YEARS, AND THEY ALWAYS HAVE EXCELLENT SERVICE FROM THE APPRAISAL TO FINAL DELIVERY. WE'VE NEVER USED ANOTHER BODY SHOP IN TOWN AND HAVE NEVER HAD ANY REASON TO. WE PARTICULARLY APPRECIATE THAT THEY RETURN THE CAR TO YOU WASHED AND VACUUMED. THEY EVEN CLEANED THE GLASS AND VACUUMED OUT THE TRUNK! TRULY ABOVE-AND-BEYOND SERVICE FROM START TO FINISH.
ALL OF THE PERSONNEL I CAME INTO CONTACT WITH WERE HELPFUL AND PROFESSIONAL. THE WORK ON THE CAR WAS EXCELLENT. THE CLAIM PROCESS WAS DELAYED DUE TO THE OWNER OF THE CAR WHO CAUSED THE ACCIDENT DID NOT HAVE INSURANCE ON HIS CAR. MARV'S HELPED GUIDE ME THROUGH THE PROCESS REGARDING THIS PROBLEM. THANK YOU ALL THE GREAT WORK AND ADVICE.